What kind of company is Platz?
Mr. Fukuyama (present CEO), whose father was a medical doctor, founded Platz in 1996 and started manufacturing beds. All nursing care beds used to be very expensive, costing several hundred thousand yen as many of them still do today. Because not many people can afford such beds but want to buy beds for their parents or grandparents, Mr. Fukuyama decided to develop a bed which costs no more than one hundred thousand yen. Finally he launched the PKB-3 bed at the price of 99,800 yen. At the time it was extraordinary cheap compared to the ones by other manufacturers, and gained a good reputation. The basic concept of the product has been succeeded by the current Carelet series.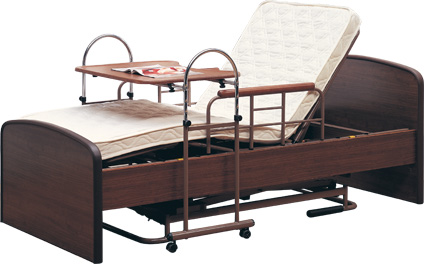 Nursing Care Bed"PKB-305S"
Platz is now producing tens of thousands of beds annually including OEM products for other manufacturers, products for the company's own nursing care homes and care insurance rental beds. We have also accumulated knowledge on physical therapy through the development of training equipments for the aged and utilized the knowledge to develop the beds in the current lineup. Thanks to the patronage of all customers, we have been able to deliver our beds and rehabilitation equipments to more than 4,000 facilities in Japan.